Special Screening and Panel Discussion
30 Years of Sisterhood
Women in the 1970s Women's Liberation Movement in Japan
(Dir by Chieko Yamagami & Noriko Seyama, Documentary: 57 min. 2004)
at Bluestockings Books $10
172 Allen Street New York, New York 10002
Tel: 212-777-6028
http://www.bluestockings.com/
Panelists from Japan:
Chieko Yamagami (Filmmaker)
Noriko Seyama (Filmmaker)
Yoko Akiyama (Professor of Chinese/Women's Studies, Surugadai University)
Yumi Doi (Writer)
Soko Miki (Professor of English /Women's Studies, Kyoto Seika University)
Satoko Wolala (Film maker)
Panelist from New York; Yuriko Yamaki (Journalist)
Interpreter;Noriko Matsumoto
Music; SwingMASA (Jazz Saxophonist)
English http://sisterhoodjapan.blogspot.com/
Japanese http://sisterhood.exblog.jp/
inquiry : E-mail WomynJazz@aol.com Tel & Fax 212-722-3753
Bluestockings is located in the Lower East Side of Manhattan at 172 Allen Street between Stanton and Rivington - which means that we are 1 block south of Houston and 1st Avenue. By train: We are 1 block south of the F train's 2nd Avenue stop and just 5 blocks from the JMZ-line's Essex / Delancey Street stop. By car: If you take the Houston exit off of the FDR, then turn left onto Essex (aka Avenue A), then right on Rivington, and finally right on Allen, you will be very, very close.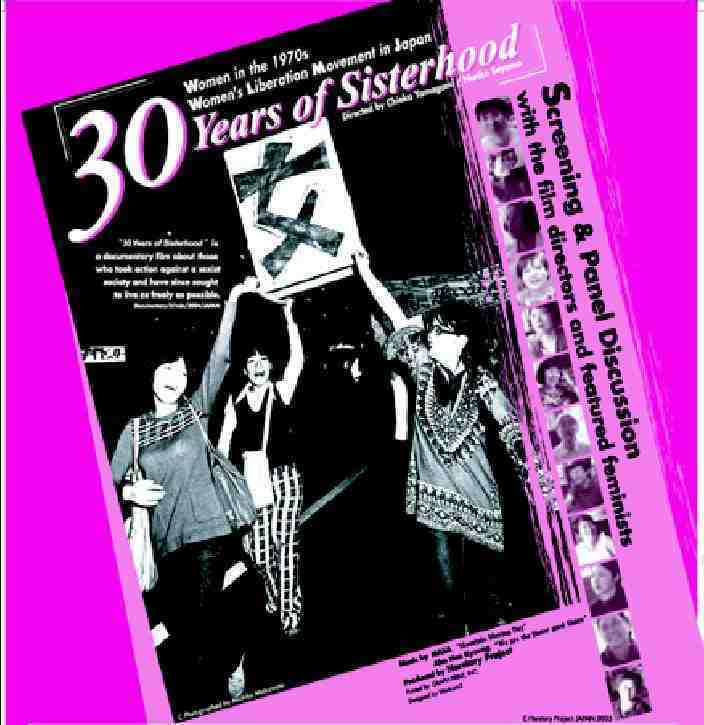 Special Screening and Panel Discussion
30 Years of Sisterhood
Women in the 1970s Women's Liberation Movement in Japan
(Dir by Chieko Yamagami & Noriko Seyama, Documentary: 57 min. 2004)
Lesbian, Gay, Bisexual & Transgender Community Center
208 W.13th St. (bet 7th & 8th)
Tel: 212-620-7310
Panelists from Japan:
Chieko Yamagami (Filmmaker)
Noriko Seyama (Filmmaker)
Yoko Akiyama (Professor of Chinese/Women's Studies, Surugadai University)
Yumi Doi (Writer)
Soko Miki (Professor of English/Women's Studies, Kyoto Seika University)
Stoko Wolala (Filmmaker)
Keith Vincent (Assistant Professor of East Asian Studies/New York University)
Interpreter : Yuko Ohnaka
English http://sisterhoodjapan.blogspot.com/
Japanese http://sisterhood.exblog.jp/
inquiry : SwingMASA tel & fax 212-722-3753 Sisterhood21605@aol.com